Georgia is the ancient birthplace of wine and has long been known for its generous hospitality. Kakheti is the main region of Georgian winemaking and Shilda is its inseparable and integral part. The Shilda wine factory is equipped with the state of the art facilities and energy efficient equipment. The enterprise employs locals, and our wine is made according to ancient Georgian winemaking traditions, which are treasured not only by us but by our entire country.
The winery Shilda was established in 2015, however the love of winemaking in Georgia spans over thousands of years. The winery is located in the village of Shilda in the Kakheti region and is equipped with modern Italian and French energy efficient equipment.
The mission of Shilda is preserving old winemaking traditions, while enhancing and reinventing them with new initiatives and ideas. Shilda's team is mainly comprised of locals, whose tireless efforts results in the production of bespoke wine, cognac and chacha of the highest quality.
Prince Juan Bagrationi - Premium Wine
The collaboration with His Royal Highness Prince Juan Bagration-Mukhrani, member of the Georgian royal family, and Shilda resulted in the creation of a new line of royal wine. The brand combines a diverse range of premium wines. The main goal of this collaboration is to enrich the wine production in the country by creating high-class wines and to pay tribute to the centuries-old culture of Georgian winemaking.
As recognized and confirmed by UNESCO, winemaking originated in Georgia 8,000 years ago.  The Bagrationi family is one of the oldest royal dynasties in the world, with a long history of significant contributions to the Georgian wine production. Prince Juan follows the traditional methods of Georgian winemaking, but at the same time, brings new life and innovation to it.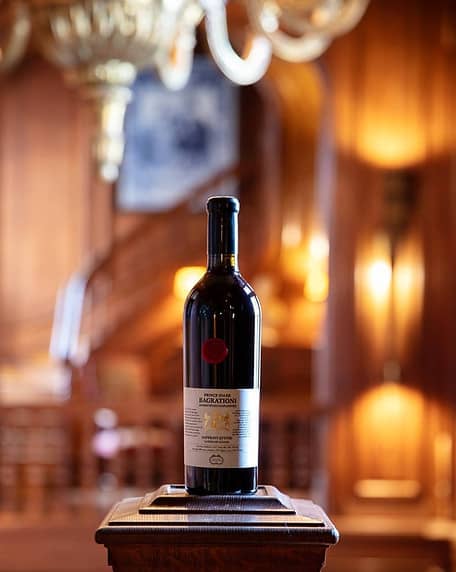 One of Shilda's brands is Rustaveli. This name represents wines made from special varieties of Georgian grapes, as well as family reserve cognacs that have been aged for many years. Some of the notable vintages in this line are a 50-year-old X.O. cognac, limited-edition Saperavi and Kvevri Saperavi, as well as Tsolikauri, Krakhuna and Chardonnay. These varieties are rare in Georgia and are produced in limited quantities.
Kakabadze is an exceptional brand for our winery. Kakabadze wines are made from ancient grape varieties, while the unique bottle labels are created based on the Imereti Landscapes series of paintings by a famous Georgian artist David Kakabadze. Shilda obtained exclusive rights for the use of the paintings on our labels from the artist's family.
With such synthesis Kakabadze wines bring together our nation's two most valued elements of culture: winemaking and art.